Australia Secret Confessions

大小:8.5M
语言:英语
类别:休闲娱乐
系统:ios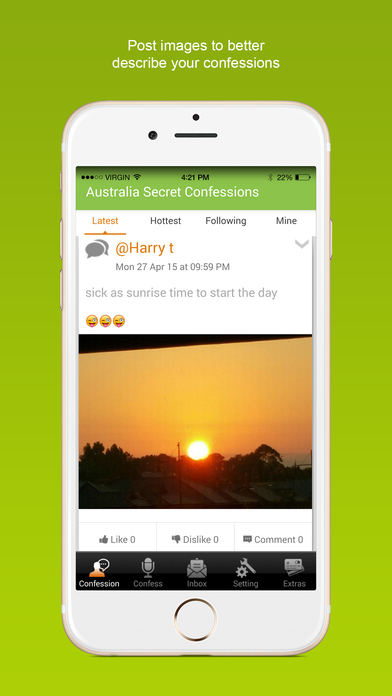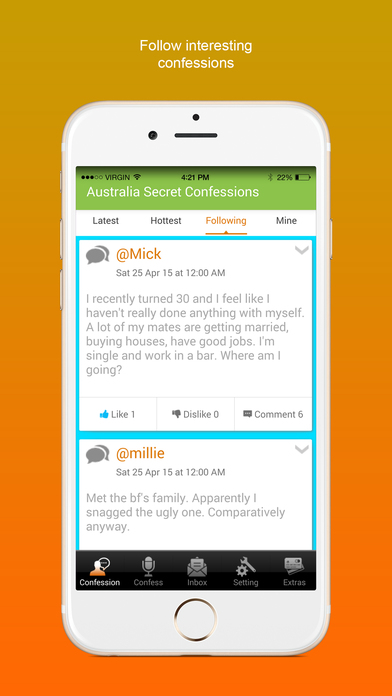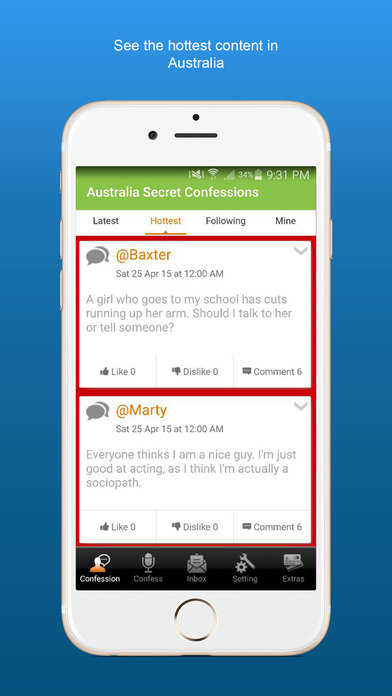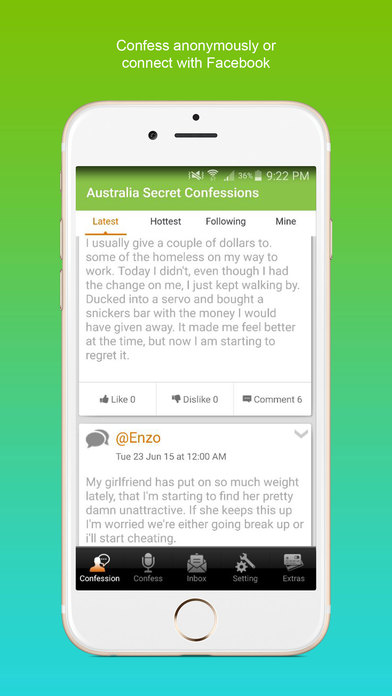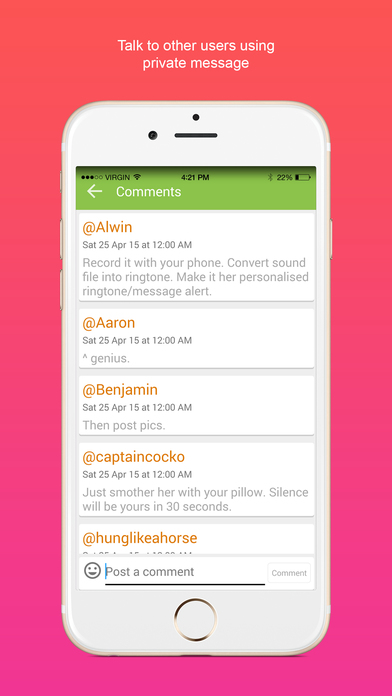 Did you know your neighbour's doing the dirty on her husband? Did you know your boss has
a dirty secret fetish? Did you hear about the guy down the road and his scandalous Saturday
night? Did you just shag your best friend's sister and have no one to tell the goss? Nowhere
to admit it privately? Fear not, divulge anonymously or dare to let your name be known.
No? Then you're clearly not up-to-date with everything that's going on around you.
Are you the kind of person who likes to know what your neighbour's up to? Are you the kind
of person who relishes in other people's dirty secrets? Do you want to confirm your
suspicions about a person's actions? If you're the kind of person who loves to know other
people's business then you need to download Australia's one and only anonymous gossip app
for Australians – Australia Secret Confessions. Dirty secrets right to your phone, privately.
Find out about the deepest darkest secrets of people you know and the people in your
community! Be prepared to laugh, cry, be surprised, and shocked.
- Learn other people's secrets
- Dare to find out your crush's sexual desires
- Find out about people's dirty confessions
- Judge their actions – what would you do if you were in their shoes?
- Join a gossip network and discuss everything you've uncovered
- 'Like' a confession and be a part of that dirty little secret and encourage them to divulge
more
- Help 'dirty' secret confessions go viral by sharing them on Twitter, Facebook,
- If you had an affair with your mate's mum, get it off your chest – admit, divulge and
confess anonymously
- If you really want to make an impact with your juicy goss, attach pictures and sit back and
watch the chaos unravel
Get the latest goss about what's going on in your neighbourhood whether you live in Sydney,
Adelaide or Geelong privately.
Thousands of users and gossip lovers across Australia have already downloaded this gossip
app that will revolutionise the way you look at others. Don't be left behind wondering why
no one told you the dirty secret 'news' before.
Do you think your town or city has more dirty secrets than Ramsey Street or the gang on
Home and Away? If "yes", you'll even have the option of nominating your hometown to be a
potential candidate for their very-own exclusive gossip act – no one's secret will ever be safe
again!
Get your up-to-date goss now and take the weight off your shoulders. Be anonymous and
privately admit the goss that's been on your chest this week! Confess, divulge, admit and
release that feeling of guilt that's been following you to the office every day!
版本: 1.0.1 | 更新时间: 17-07-27 展开更多
Australia Secret Confessions评论
文件包很小。功能齐全呀。微压用起来不错,支持一下。

越更新越好用了,之前有些功能我都找不到,现在的Australia Secret Confessions太令我惊喜了