Ask Mirror Mirror

大小:24.8M
语言:英语
类别:休闲娱乐
系统:ios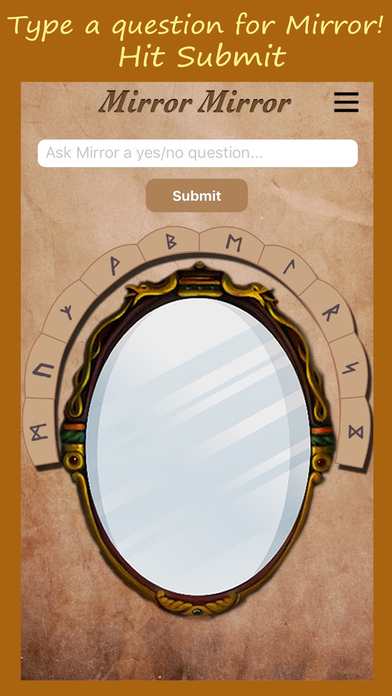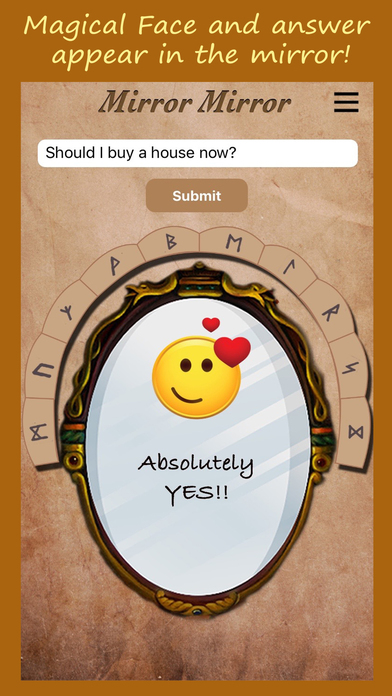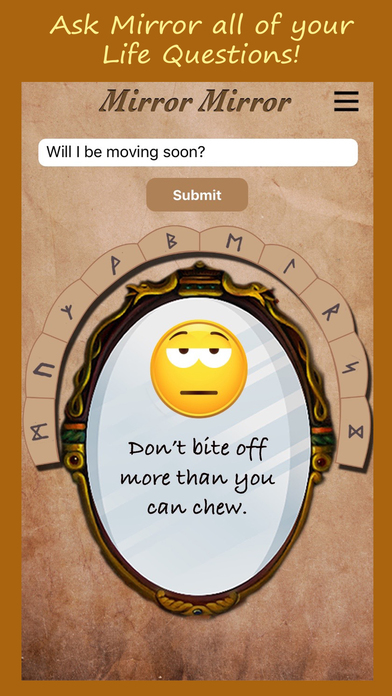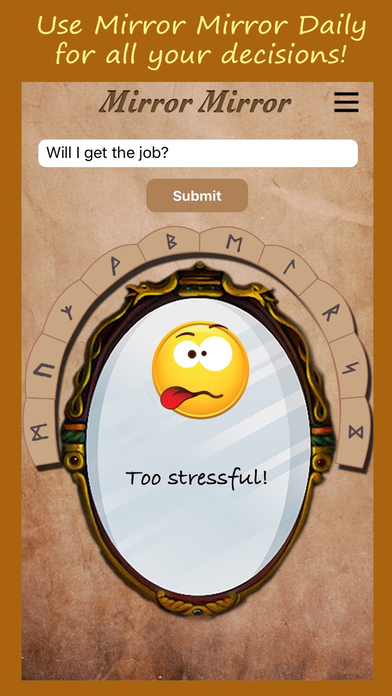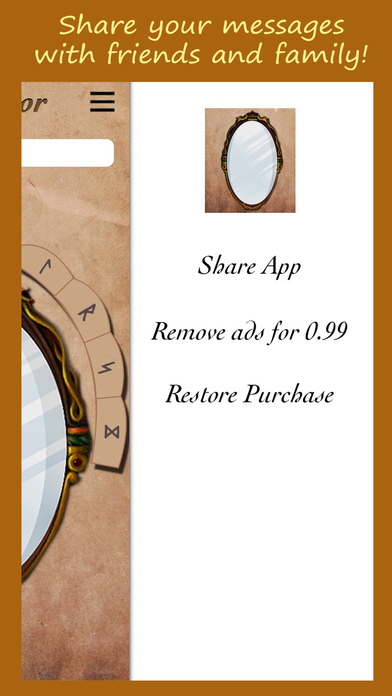 Ask Mirror Mirror - Magical Fortune Teller

"Mirror Mirror on the wall…" Have you ever wanted your own personal magical mirror fortune teller and guide just like the movies? Well, now you can have it! Get the best advice in life with your own magical mirror app. It's one of the simplest, yet most fun and useful app to have by your side. Ideal for those times when you are searching for advice on life and need fortune telling or quick advice. WAY better than the Magic 8 Ball! Has over 100 answers to explore with accompanying emoji faces which can be helpful, funny, witty, surprising, and encouraging and magical! Fun interface! Helpful answers to life's questions and concerns. Use this app as your daily psychic fortune teller for any life questions you have!

HELPFUL GUIDANCE, FUN INTERFACE
Ask Mirror Mirror is a wonderfully magical app that you can ask questions of and a face appears with your answer! It is your life guide, your fortune teller and app to turn to when you need some guidance, want some advice, and/or want to see what fun answer you get in response to life's questions. Don't pay for online fortune teller or future telling, you can have one on your mobile device one now!

FUN WITH FRIENDS


More fun than the Magic 8 Ball! Use this app with friends to see what faces and messages come up in response to your questions! Loads of fun! See what magical, funny, helpful answers your Mirror Mirror fortune teller and guide has for you!

Ask Mirror a yes or no question and and a magical face and answer appears in the mirror. Need more life advice or guidance? Ask Mirror another question. Use Mirror Mirror daily to help you through life's decisions or just to have fun asking it questions! More fun and complex than a crystal ball and way more answers than the magic 8 ball!

INSTRUCTIONS:
1) Type a Yes/No question to Mirror Mirror and FOCUS energy on the question to get the best answer!
2) Hit Submit!
3) Your magical face and answer will appear in the mirror.

Need Clarity? Have another question? Ask again! See what advice Mirror has for you! Over 100 answers to explore!

BEST WAYS TO USE MIRROR MIRROR
* Life guidance, psychic advice, as a fortune teller.
* Have fun by yourself asking it questions!
* Have fun with your friends asking Mirror questions and see what magical face and answer appears!
* Share/Send your messages to friends and family.

* Mirror Mirror has answers you need that are fun to explore!
* It can help you with life's questions or confusing situations or can just be fun to play with!
* Get your own personal magical Mirror Mirror guide and fortune teller today!
版本: 1.2 | 更新时间: 17-07-27 展开更多
Ask Mirror Mirror 评论
正在等待Ask Mirror Mirror 下载完毕,为了能够遇到一个符合我预期的休闲娱乐软件,真是费了老劲了。

Ask Mirror Mirror 超级棒!点一亿个赞