FERS+CSRS Retirement Estimator

大小:4.4M
语言:英语
类别:金融财务
系统:ios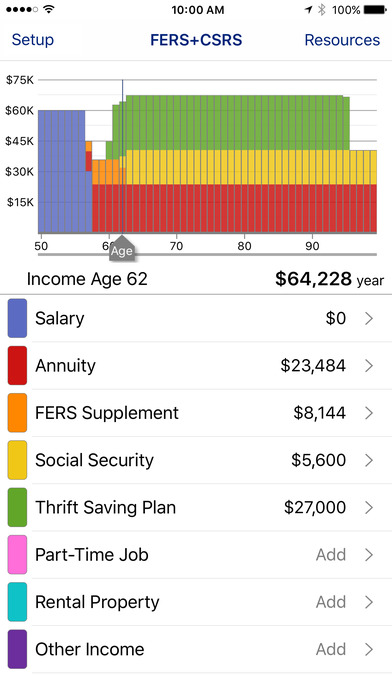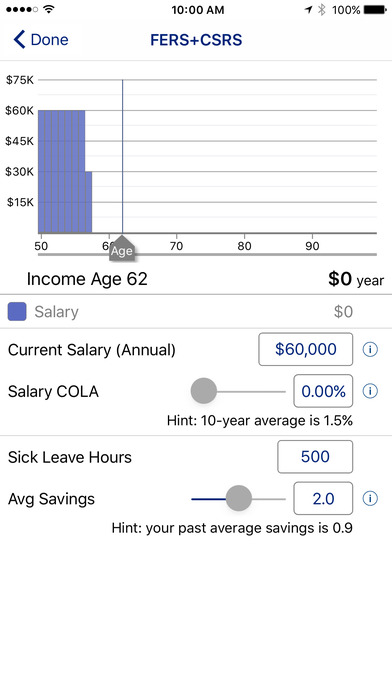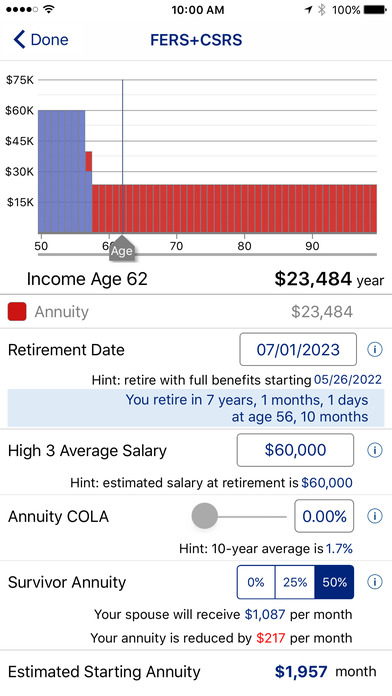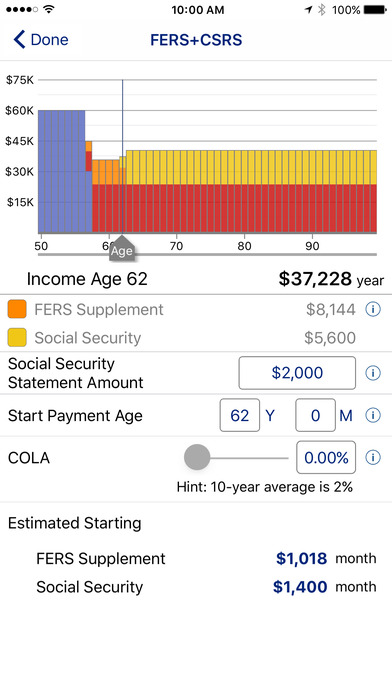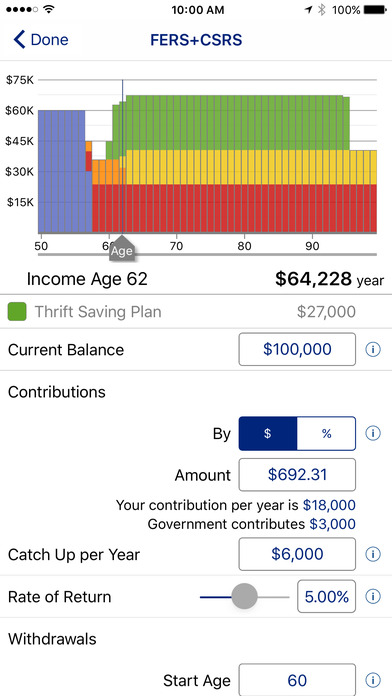 FERS+CSRS makes it easy for US Federal Employees to estimate their retirement income. Estimates for both FERS and CSRS retirement systems are free! See your income over the next 50 years in a colorful, easy to understand graph. Play with different scenarios, like retiring earlier or later, to see how your income is affected. You may be surprised – one user discovered she could retire two years earlier than expected.

FERS+CSRS is a valuable tool to help you plan your retirement.

3 EASY STEPS
• Enter your age & employment info
• Enter your salary
• Decide when to retire (we'll show your earliest possible retirement date)

POWERFUL TOOL
• Estimate income for 50 years
• Identify low-income years BEFORE they happen
• See your income at any age
• Supports Law Enforcement, Air Traffic Controller, Firefighter and VERA employees

UPGRADE FOR A COMPLETE ESTIMATE
• Social Security – see how starting earlier or later affects income
• TSP – estimate contributions and see how long it will last in retirement
• Annuity Supplement – FERS employees that must retire early can calculate their gap annuity
• Other income – include income from additional savings, rental income… anything
• Phased Retirement estimates

We would love to hear your questions and feedback. Contact us through the link on the Resources screen.

DISCLAIMER
FERS+CSRS is a valuable for do-it-yourself planning, but we highly recommend you seek professional guidance and education. Estimates are no guarantee of future income. FERS+CSRS is not affiliated with any government agency.
版本: 1.0.2 | 更新时间: 17-07-25 展开更多
FERS+CSRS Retirement Estimator评论
金融财务软件哪家强!华军软件园找FERS+CSRS Retirement Estimator

试了一下这个FERS+CSRS Retirement Estimator,感觉还行,在金融财务里算很好用的了