EZ Adder

大小:1.5M
语言:英语
类别:金融财务
系统:ios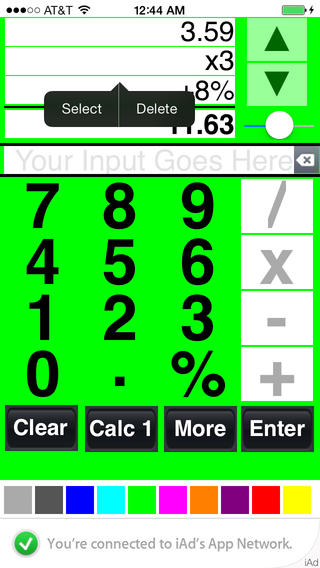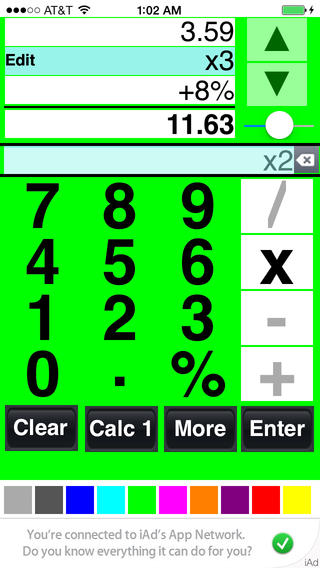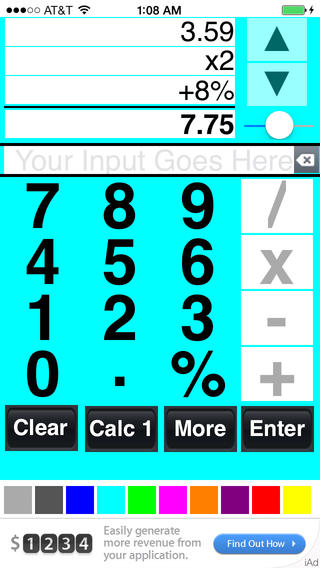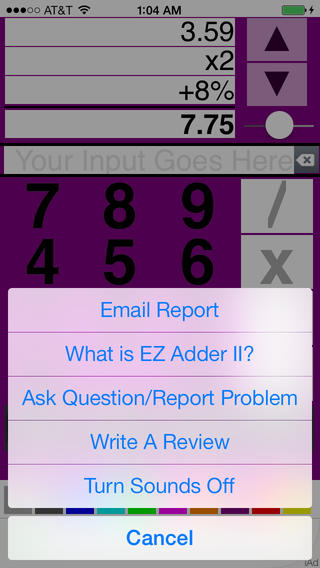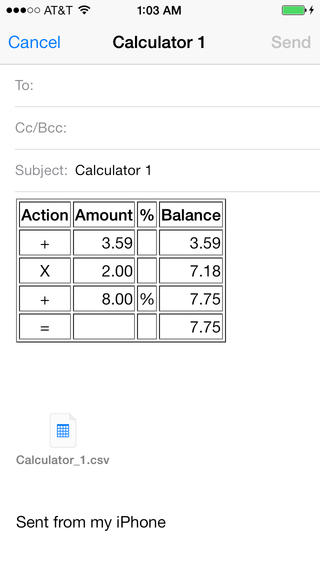 EZ Adder is a unique easy to use basic calculator (+ - x / %). It maintains an "electronic paper tape" of all your entries which you can view and easily correct any entry.

It's great for performing any basic calculations. Ever try to add a long list of numbers and every time get a different answer? Then, you need EZ Adder because it lets you scroll through all of your entries and easily correct any mistakes.

EZ Adder has three independent calculators each with its own "electronic paper tape." All tapes are stored locally and every time your app is backed-up, it automatically backs up all of your tapes. You can email the results of any tape as a formatted report to yourself or anyone else.

EZ Adder has a large custom keyboard for a quick and easy touch and a decimal slider to let you choose the number of digits (0-4) after the decimal point in the total.

It also has an enhanced % key for calculating percentage discount, tips, and sales tax:
- To compute the price of an item with a 25% discount, enter the price then enter -25%.
- For an additional 10% discount, enter -10%.
- To calculate the meal amount plus an 18% tip, enter the meal amount then enter +18%.
- To calculate the total including 8.25% sales tax, enter the total then enter +8.25%.

FEATURE SUMMARY
• Electronic paper tape showing all entries
• Correct any entry at any time
• Delete items from the tape
• Three (3) independent electronic paper tapes
• Custom numeric keyboard for an easy touch
• Email results to yourself or anyone else
• Decimal point slider to choose 0-4 places
• Automatic back up of all data with the app
• Shake to Erase for ease of use
• Plus % is great for tax & tips
• Minus % is great for discounts
• Choice of 10 colors for each calculator
• Mute

SETTINGS
The settings are set in the Apple "Settings" app. Settings allow you to choose the color you want for each of the 3 independent calculators.


版本: 4.2 | 更新时间: 17-07-25 展开更多
EZ Adder评论
真的很好用啊,没想到发现了这么多优秀的金融财务软件,不过我还是留着【软件】吧,用出来感情了。

EZ Adder有没有破解版的啊,有的朋友麻烦推荐一下

这个EZ Adder好用么,相比上个版本变化大不大,我看安装包大小都已经这么大了了