Easy Peruvian Food Recipes

大小:48.5M
语言:英语
类别:美食应用
系统:ios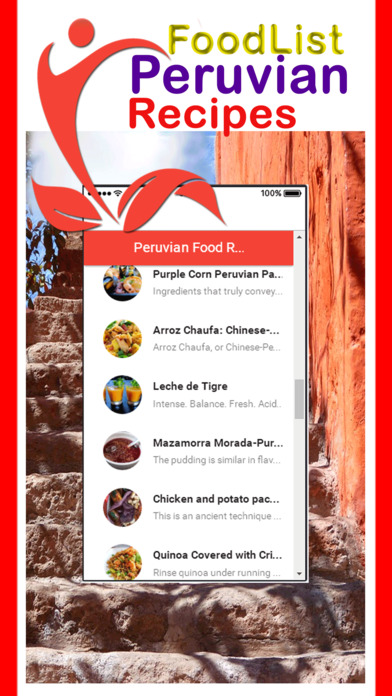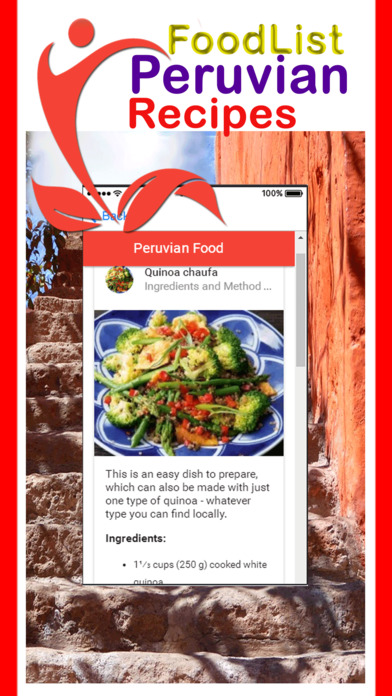 Looking for The best Healthy Peruvian Food Recipes easy to cook at home for all family and kids. You will find all Recipes you will ever need. No more buying expensive cookbooks or writing down ingredients before you start cooking with this healthy Peru recipe app you have all in one place. Simple to follow instructions in detail and best of all its FREE NOW!

Peruvian cuisine reflects local practices and ingredients—including influences from the indigenous population including the Inca and cuisines brought in with immigrants from Europe (Spanish cuisine, Italian cuisine, German cuisine), Asia (Chinese cuisine and Japanese cuisine) and West Africa. Without the familiar ingredients from their home countries, immigrants modified their traditional cuisines by using ingredients available in Peru.

The four traditional staples of Peruvian cuisine are corn, potatoes and other tubers, Amaranthaceaes (Quinoa, Kañiwa and kiwicha) and legumes (beans and lupins). Staples brought by the Spanish include rice, wheat and meats (beef, pork and chicken).

Many traditional foods—such as Quinoa, kiwicha, chili peppers, and several roots and tubers have increased in popularity in recent decades, reflecting a revival of interest in native Peruvian foods and culinary techniques. Chef Gaston Acurio has become well known for raising awareness of local ingredients. The US food critic Eric Asimov has described it as one of the world's most important cuisines and as an exemplar of fusion cuisine, due to its long multicultural history.

Let this free recipes app be your simple and portable cookbook with great ideas for preparing quick and easy meals for your family dinner or special occasion. Hopefully you will like our good Peruvian recipes and try it out some time soon!

Here is an example of Peruvian food list contained in this application:
> The Pisco sour originated in Peru and uses Pisco--a grape brandy produced in Peru and Chile..
> Lomo Saltado is one of the most popular Peruvian dishes and symbolizes like no other the fusion of Peruvian ingredients with Asian techniques of preparing food..
> Is Sopa Criolla and Sopa a la Minuta the same soup? Or two different soups with the same base? As even Peruvian chefs seem unable to agree on this topic..
> This delicious dish is popular throughout Peru, but is especially prolific in Lima..
> Arroz Chaufa, or Chinese-Peruvian Fried Rice is a wonderful example of how Peruvians embraced the ingredients and flavors of Chinese cuisine..
> The pudding is similar in flavor to the chicha morada drink, but with some dried prunes, a creamy consistency, and a sprinkle of cinnamon..
> This is an easy dish to prepare, which can also be made with just one type of quinoa - whatever type you can find locally..
> And Much more again you can get them on the application.

All recipes FREE use simple ingredients that are easily available and inexpensive. If you are interesting in learning how to cook healthy and simple recipes, you are in the right place. Enjoy The traditional and popular recipes of Peruvian cuisine and trace amounts, great pictures. Recipes are easily prepared. Feel free to try them!
版本: 1.1 | 更新时间: 17-07-21 展开更多
Easy Peruvian Food Recipes评论
非常不错,Easy Peruvian Food Recipes良心,已经很难找到这么好的美食应用软件了

Easy Peruvian Food Recipes1.1下载好慢,不知道是不是我网速问题,继续等待……