Basic German For Dummies

大小:5.7M
语言:英语
类别:教育教学
系统:ios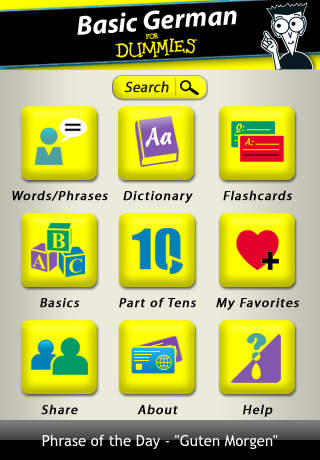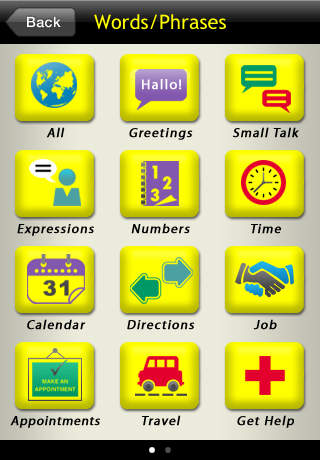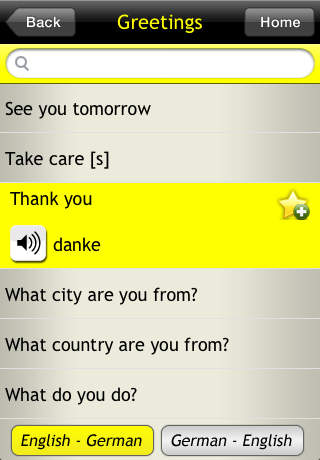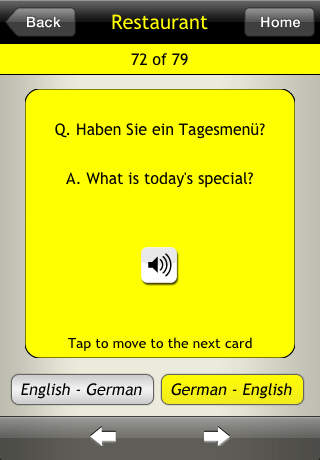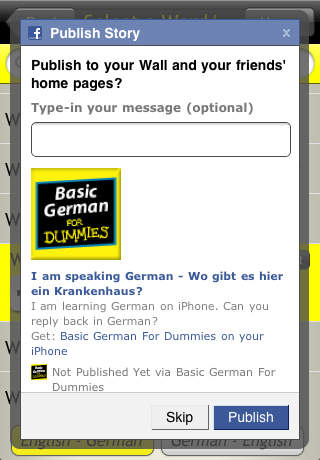 Want to speak German? Dummies can help!

Whether you want to take up German from scratch or brush up on your existing skills for work or travel, this practical app is for you! Fun flashcards highlight common words and phrases written in English and their translation in German with audio playback. A German-English and English-German mini-dictionary gives you flexible and easy word lookup. Quickly learn hundreds of common phrases you can use in almost any situation from greetings and directions to home and office. A thorough listing of language basics offer pronunciation, nouns and articles, pronouns, adjectives, verbs, prepositions, and basic language conventions. Special interactive features let you mark your favorite phrases and share with friends on e-mail or Facebook. This app will have you speaking German quickly and confidently.

App Features:

1. Words/Phrases – Learn the most common words and phrases for whatever situation you encounter. Words and Phrases are categorized for easy look up – Greetings, Small Talk, Expressions, Numbers, Time, Calendar, Directions, Work, Appointments, Travel, Get Help, Restaurant, Hotel, Bank, Store, Office, School, Home, and Entertainment. You'll find what you need with both phrases and words written in English and their translation in German with audio playback. Plus, there's a featured Phrase of the Day to help further build your skills.

2. Dictionary – Commonly used words in both German to English and English to German formats.

3. Flashcards – Pick your category (same ones as in Words/Phrases) and you are off to a fun-filled way to practice your German. Includes the most widely used words and phrases written in English and their translation in German with audio playback.

4. Basics – jam packed with information on everything from numbers, dates, times, nouns, articles, pronouns, adjectives, verbs (infinitive, present, past, and future tenses), prepositions, conjunctions, as well as sentence construction and capitalization rules, you get the fundamentals you need for a solid German foundation.

5. Part of Tens – Loaded with more "extras" these listings feature fun ways and phrases to make you sound German, including common expressions, holidays, mistakes to avoid, and common expressions.

6. Favorites – With so many features in this App, we let you decide your favorites. Easily mark and store the words and phrases you want to review, use more, or need to know. Make updates to your favorites anytime by adding/deleting phrases and words.

7. Share – Impress family and friends by sending words and phrases from the app with friends using Facebook or email.

The Basic German For Dummies app is your on-the-go guide to making learning German easier.

NOTE: All the content and audio files are included in the app. No network connection is needed to view the content. Network connection is only needed for Facebook and email sharing options.
版本: 1.1.0 | 更新时间: 17-07-20 展开更多
Basic German For Dummies评论
之前的Basic German For Dummies挺好用的啊,一下子就跳到了1.1.0,反而有点接受不了。

Basic German For Dummies非常的好 谁用谁知道 建议下载