BigFONT

大小:44.1M
语言:英语
类别:实用工具
系统:ios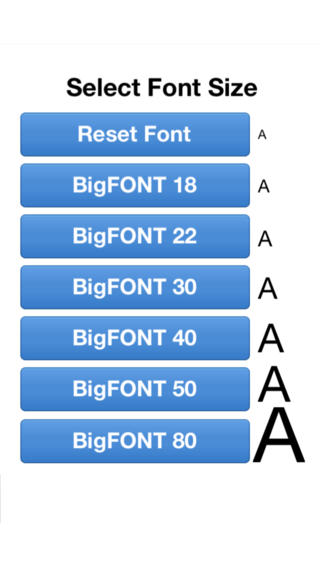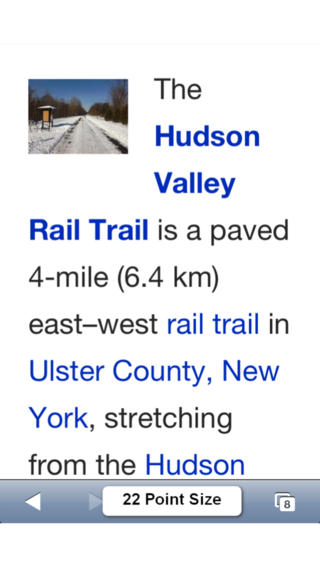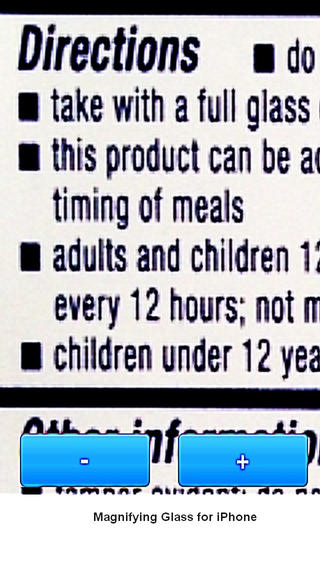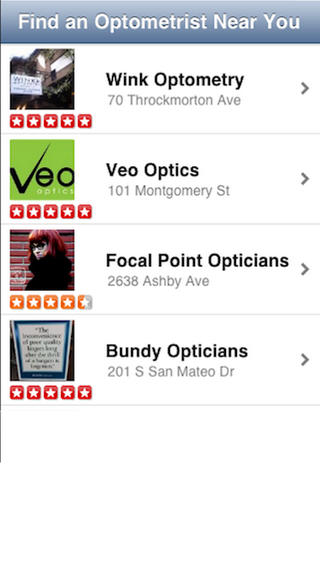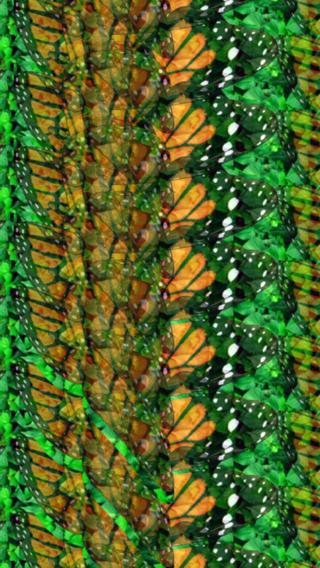 iOS 6 only! Enlarge small print on labels or mobile WebPages for easy reading with relaxing eye exercises. For OS 7 or higher, and to digitize and read back text contained in pictures using OCR and TTS, use BigFONT Free Text Reader or BigFONT OCR Text Reader.

• Read web pages with ease using intelligent text zoom
• Read the tiny print on labels, menus etc. with 2-8 times Magnifier
• Reduce digital eyestrain with relaxing eye exercises
• Find a recommended Optometrist with directions and ratings

Text Zoom:
If you have mild to severe vision challenges - where are my reading glasses when I need them - and you're browsing the web on your phone, you probably recognized that

• Text flows off the screen to the sides when zooming above certain levels, requiring you to move the page from left to right in order to see what's on it.

• Mobile web pages like search engine results, news sites and many others don't even let you zoom in, so you have to try reading the tiny print size.

Instead of constantly looking for your reading glasses or using an off-page Reader option, now you have the best solution right at your fingertips:

BigFONT takes a different approach to text zooming and vastly improves the web experience through a new page-zoom feature with text reflow and word wrap, right on the original web page. Enjoy large-size text that stays inside your display, no matter how big it is. This eliminates left-to-right scrolling and allows for easy reading even at the highest zoom levels.

Best of all - you can even adjust the text size of mobile web pages to a comfortable level for an enjoyable reading experience.

Set up different custom zoom levels for your Safari browser from "just a little bigger" all the way to "giant" print size and activate them as needed by simply pushing a button.

This will make the print bigger on most web pages (some websites don't support font scaling) and keeps pictures and other elements in place to preserve the visual experience.

Magnifier:
Read labels, menus and everything else with tiny print. Turn your iPhone into a magnifying glass with zoom levels up to 8-times the original size. (3GS and higher)


Eye Exercises:
When looking for long periods of time at a computer screen at a fixed distance, our eye muscles and lenses lose their strength and flexibility, causing major vision problems.

Experts suggest taking regular breaks and looking at distant objects. (Not easy in most offices)

Relax your eyes by looking at the included 3D-stereogram images, which focus your vision at a point deep behind the actual picture. This is like looking at a distant object, so your eye muscles adjust the lenses, relaxing and exercising your eyes.

Optometrist Finder:
Time for new glasses? Based on your current GPS position, your iPhone will show you recommended Optometrists with satisfaction ratings and map directions to get you there quickly (works in selected places).

Join our rapidly growing community of happy readers by downloading BigFONT now and help others by spreading the word.

版本: 1.1 | 更新时间: 17-07-17 展开更多
BigFONT评论
BigFONT1.1顺利下载完成,很不错,BigFONT最新版本就是棒

BigFONT我用了很久都没问题,大家就放心的使用吧

实在没想到BigFONT现在已经优化到44.1MB了,技术的确厉害