Baby So Real Firmware Update

大小:4.0M
语言:英语
类别:实用工具
系统:ios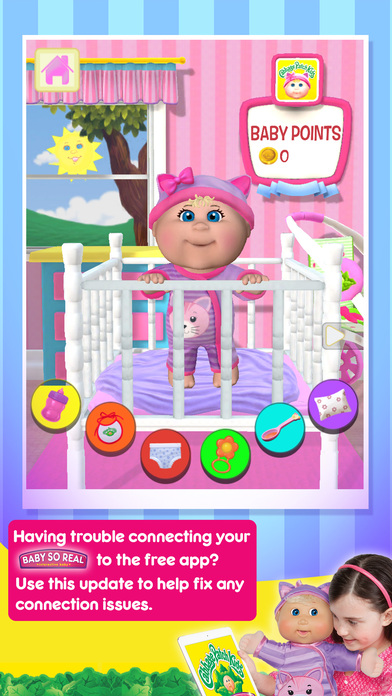 If you are having issues connecting your Baby So Real™ to the app, you can use this free update to fix your connection issue. Just follow the steps provided in the update. Once complete you will be able to connect your Baby So Real™ to the free Baby So Real™ app. Now you can begin a fun and nurturing experience with the most interactive baby around!

Once this update has been installed and the connection issue has been fixed you can uninstall and/or delete the "Baby So Real update" from your smart device.

Download the official app: https://itunes.apple.com/us/app/baby-so-real/id886067720
------------------------------------------------------------------------
Baby So Real® Interactive App Play
The free Cabbage Patch Kids® Baby So Real™ app acts as a virtual nursery where you can play with your baby, feed her, change her diaper, burp her, and share your love and care. You can also play Cabbage Patch Kids® games, watch video clips and earn Baby Points to get additional virtual accessories, fashions, room décor and more!

What can I do on my baby's app?
-Earn Baby Points by feeding, burping, playing, changing, giving medicine and putting your baby to sleep.
-To use your Baby Points, click on the Baby Points counter.
-Use your earned Baby Points to acquire virtual elements for your baby's room such as furniture, accessories and window scenery. You can also use your Baby Points to choose new outfits, accessories and toys for your virtual baby.
-Accumulating Baby Points allows you to really personalize your virtual baby and her room by changing her fashions, room décor and toys as often as you want.
-Name your virtual baby and learn more about where these special babies come from.
-To help preserve battery life, close the app completely when not in use.
-App play is enhanced when paired with your Baby So Real™, available in stores across the US starting Fall 2016.

Now you can have even more fun with the most interactive baby around, Baby So Real™ when you connect your baby to her app! With her beautifully expressive eyes and over 60 adorable sounds, this baby allows you to enjoy one of the most magical and interactive baby doll experiences. Cabbage Patch Kids® Baby So Real™ is available starting Fall 2016 at all major retailers, in store and online. Adopt your very own Baby So Real™ today!

TM & © 2016 OAA, INC.
Questions or Comments? www.wickedcooltoys.com/babysoreal, info@wickedcooltoys.com, or 1.888.519.1392 in North America.

Cabbage Patch Kids® ©2016 Original Appalachian Artworks, Inc. All Rights Reserved. All other symbols, marks, logos, and designs (collectively "Trademarks") are Trademarks of and proprietary to their respective owners and used under license.

Additional Disclosures
•Suggested age grade is 3+ to play
•Use of this application requires a smart device running on iOS or Android network.
版本: 1.0.1 | 更新时间: 17-07-17 展开更多
Baby So Real Firmware Update评论
简直是神应用,给Baby So Real Firmware Update赞一个,会一直支持下去的。

这个Baby So Real Firmware Update好用不?求用过的朋友介绍下