ENB Mobile

大小:4.0M
语言:英语
类别:新闻资讯
系统:ios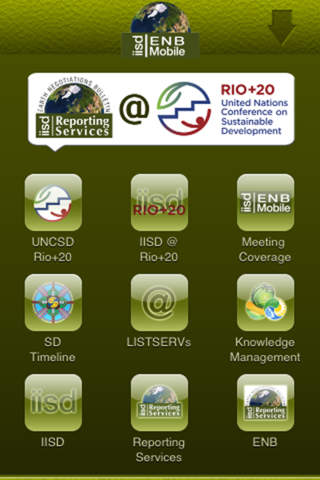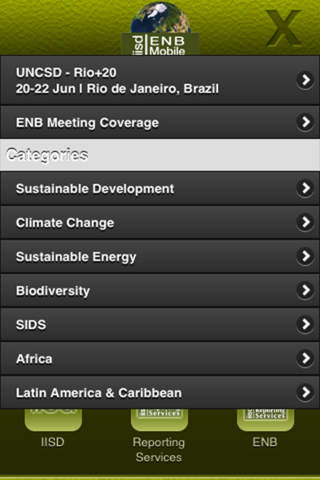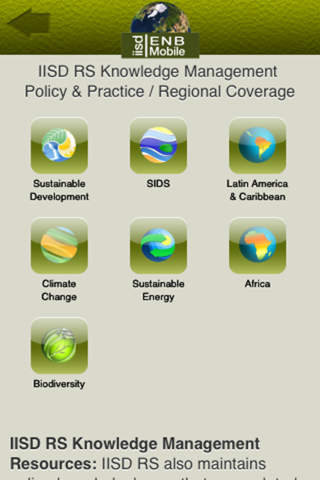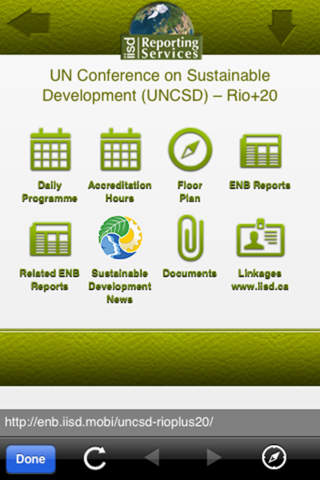 Welcome to "ENB Mobile," a product of the International Institute for Sustainable Development Reporting Services (IISD RS) Division. IISD RS, which has reported from intergovernmental environmental negotiations for 20 years, provides a variety of multimedia informational resources, free of charge, for sustainable development decision makers, including Earth Negotiations Bulletin coverage from intergovernmental environmental negotiations, knowledgebases with news about meetings and publications related to international sustainable development policy and community listservs. As part of the world's first wave of internet and digital media users, IISD RS is again bringing you access to Earth Negotiations Bulletin in a format that enhances its value to decision makers: ENB Mobile.

IISD RS developed ENB Mobile in support of the United Nations Secretary-General's "PaperSmart" initiative, which aims to reduce the carbon footprint of UN conferences by making materials available in electronic format and to cohere with the Secretary-General's vision for change and innovation across the UN Secretariat. ENB Mobile will be officially released on 13 June 2012, to help the approximately 50,000 participants at the UN Conference on Sustainable Development (UNCSD, or Rio+20) who will be gathering in Rio de Janeiro, Brazil, 20 years after the 1992 Rio Earth Summit.

ENB Mobile is ideal for policymakers and practitioners participating in international environmental negotiations, and is especially useful for representatives of governments, academia and non-governmental organizations who desire consolidated mobile access to conference information and a reduced carbon footprint for these events. ENB Mobile features information about international environmental negotiations to help policymakers navigate from one negotiation to the next. For each UN environmental negotiation that our IISD RS teams report from, this application offers consolidated mobile access to:

•Daily programmes
•Venue floor plans
•Photos from the meeting
•Event alerts for meeting changes and notifications
•Access to documents and news from the secretariat
•IISD RS' reports from the meeting and side events (including Earth Negotiations Bulletin and ENBOTS)
•IISD RS' Policy & Practice knowledgebase news
•Side Event schedules
•Press releases and video links
•Meeting-related tweets

…and much more. Other features include access to IISD's Sustainable Development Timeline, IISD RS' archives of meeting reports related to the relevant negotiation, and additional information on IISD RS, Earth Negotiations Bulletin, our knowledge management news services and our community listservs.

ENB Mobile Online, which is linked, is available at http://enb.iisd.mobi/ and the application links to various United Nations HTML5 mobile-friendly sites and will be regularly updated with additional, feature-rich, native code to improve the overall smartphone and tablet user experience.
版本: 1.1.3 | 更新时间: 17-07-14 展开更多