Drapro Guide for DragonProject

大小:32.4M
语言:英语
类别:新闻资讯
系统:ios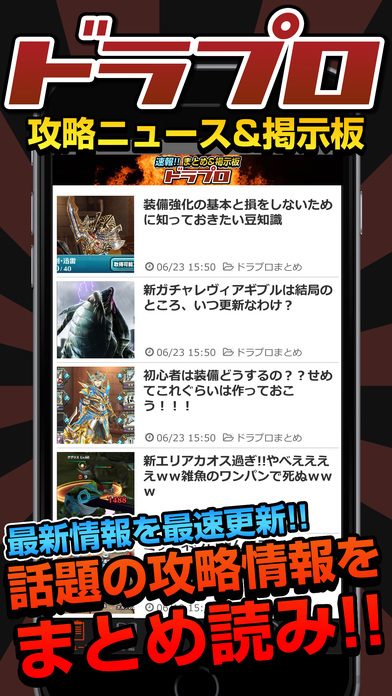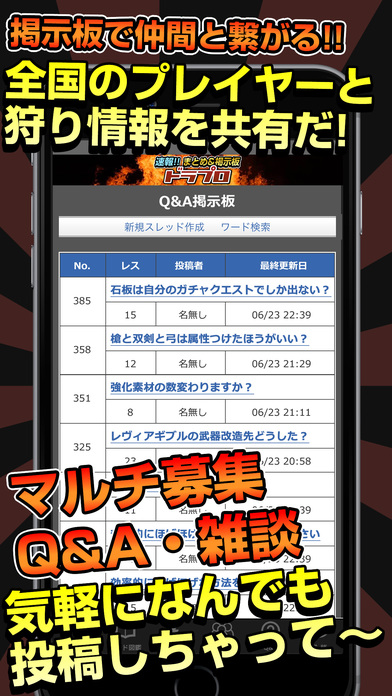 "Dragon project (Dorapuro)" is a professional capture app.
Updating the information in the preliminary report, such as the latest official information and capture roundup.

So are substantial also bulletin board of Dora professional users, you can also easily exchange and the exchange of information between users to enjoy the same game.

Check of capture information about Dorapuro is OK if there is one this app.

About implementing functions in the capture app
■ News
You can crisp check, such as the official information and the latest capture information about Dorapuro.
Also popular article because to let you know in a regular push notifications, is useful because only the easily can check the topic of information even if you do not stick to the app.
(To receive a popular article information, please allow the push notification. It is also possible to turn off later)

■ picture book
Latest of arms and armor, you can check the ability and evaluation information of the Magi.

■ Cheats
You can see the latest quest capture information of Dorapuro

■ Multi-Wanted bulletin board
You can recruitment of Quest Gacha multiplayer opponent

■ Q & A bulletin board
Make a thread for each question, you will receive an answer from other users.

■ chat bulletin board
Please use as a place of Dora professional users to each other exchanges. Theme to the limit is not


※ This application is an unofficial app "Dragon project (Dorapuro)" and are not affiliated with the management company like.
※ all of the functions of the viewing and writing, etc. in this app can be used free of charge.
※ In the writing of the bulletin board, writing the slander and other users feel uncomfortable, please do not post.
版本: 1.0.0 | 更新时间: 17-07-14 展开更多
Drapro Guide for DragonProject评论
1楼

华军网友

2017-02-26 19:45:01

我觉得现在的Drapro Guide for DragonProject已经够我用得了,什么时候想换口味了,就试试免费软件的版本

2楼

华军网友

2016-03-15 14:36:42

3楼

华军网友

2016-03-11 17:27:13

这版Drapro Guide for DragonProject竟然是免费软件,先下载试试,多谢分享。